Cerberus Testing : From Functional to Automation with Simon Le Guennec, QA Consultant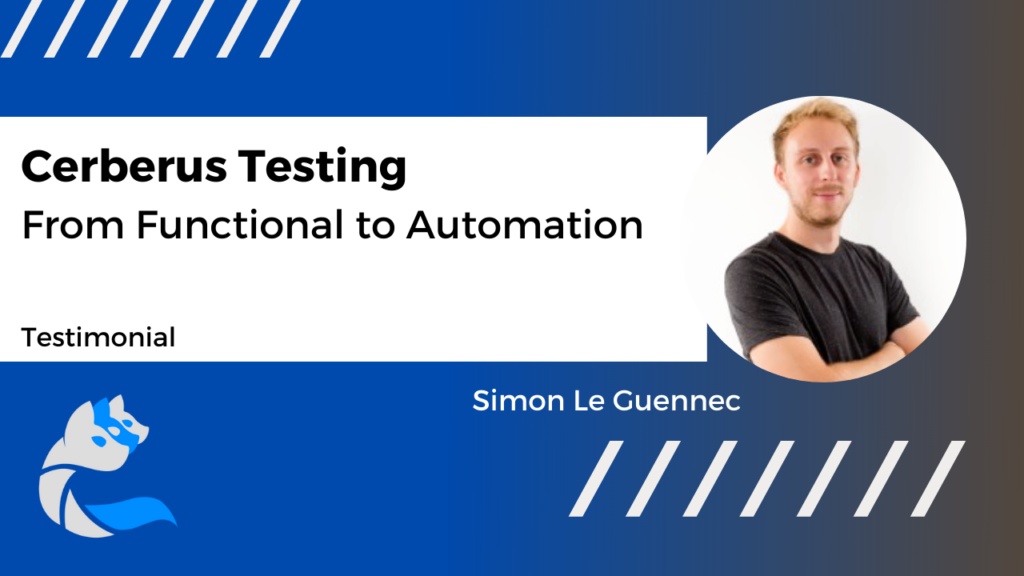 Automation is a challenge with a functional background.
The tools are often complex, technical and require coding, limiting more than one to switch. This is a problem when we need to accelerate software delivery cycles.
Simon Le Guennec, QA Consultant at Davidson Consulting, shares his experience with Cerberus Testing as a manual tester who had to evolve in a few weeks to automation.
About Cerberus Testing
Cerberus Testing is an open source test automation platform. Available in low-code to enable cross-functional collaboration between business, development and QA teams. Web, mobile, API, thick client and database testing are supported in a unified platform. Rapid iterations between test definition, execution and reporting help teams accelerate value delivery.
Key figures
300+ automated web and mobile tests executed at each commit
2000+ tests per day used to monitor customer journeys
15 Android devices tested in parallel in a non-regression campaign.
"The big advantage of Cerberus Testing was that it is ergonomic and that it does not require any technical background to be taken in hand and create simple automated tests."

—Simon Le Guennec, QA Consultant at Davidson Consulting
Can you start by introducing yourself?
My name is Simon Le Guennec, 31 years old, I am a QA consultant at Davidson. I have been working in testing for a little over 3 years now.
I had the opportunity to quickly increase my skills in test automation with Cerberus Testing on a web project at Auchan International for a year and a half. Then I progressed over the past two years through a web and mobile project within Decathlon.
These two experiences allowed me to understand the different test issues related to the web and mobile.
What problems are you trying to solve using Cerberus Testing?
My first need was to create a test repository organized by major features.
I then had to be able to design automated test campaigns both on the web and on mobile; this in order to execute non-regression campaigns systematically during a commit.
I also wanted to plan sanity check running tests at regular intervals in production to ensure large user journeys.
Finally, all the tests had to be able to be carried out on different devices (smartphone, tablet, terminal).
What situation were you in before using Cerberus Testing?
I only spent 2 months doing manual and exploratory tests before being trained on Cerberus Testing. I listed the various non-regression test tests in a Google Sheet and played them manually before each release.
When delivering new features, I carried out the tests related to new developments by hand. So I didn't necessarily have a comparison with other tools when I started using Cerberus Testing.
What sets Cerberus Testing apart from other options in this segment of automation tools?
Being basically a functional profile, the big advantage of Cerberus Testing was that it is ergonomic and that it does not require any technical background to be taken in hand and create simple automated tests.

Step-by-step traceability in executions makes it possible to precisely identify the origin of the errors encountered. You can also use advanced logging options to take screenshots, traces and other contextual information.

The management of the robots and the different environments make it possible to support a wide coverage of tests. You can easily test an application in its different test environments, on different devices and browsers.
What have you been able to achieve using Cerberus Testing? Do you have a success story?
After 2 years on the Decathlon project, there were just under 300 automated Web and Mobile tests combined, executed during each commit. These tests also carried out checks via API calls.
A production-specific "light" campaign was launched every 10 minutes with the aim of monitoring the stability of certain services. This represented more than 2000 tests per day systematically executed and on which notifications were configured.
During this project, Cerberus Testing also helped me manage a fleet of Android smartphones to ensure the execution of automated campaigns.
What contributes the most to your satisfaction and that of your users with Cerberus Testing?
Facilitation of exchanges between the different actors. I could concretely share the construction of my tests around the simple and visual model of step, action and control.
More generally, the natively available dashboards also allowed me to share the results of the test campaigns with the different members of the team.
What are the main reasons you would recommend Cerberus Testing?
Ergonomics facilitating the on-boarding for functional profiles and neophytes in the creation of tests is for me a great added value.
The community is also very present and dynamic whether on Slack, meetups or social networks.
In my specific case, the native support for Web, Mobile and Back-office tests on different contexts and in particular APIs allowed me to secure my project.
On a scale of 0 to 10, how would you recommend Cerberus Testing to peers?
8/10!
The sentence summarizing Cerberus Testing is "Easy to learn, hard to master".
We managed to do the first tests easily. To go further, as with everything, it takes practice, a little support from the community and time to fully master all the available features.
Some features are a bit hidden; we can sometimes discover new possibilities. Ongoing changes to the user interface will accelerate this discovery and automation.
Interested to switch also? Start here with Cerberus Testing.
Cerberus Testing : From Functional to Automation with Simon Le Guennec, QA Consultant